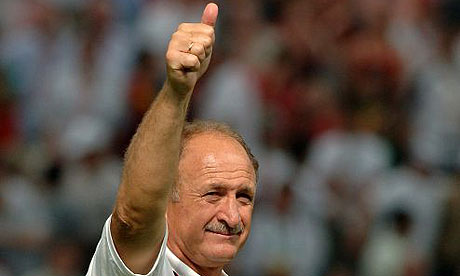 Luiz Felipe Scolarihas made 'a personal request to Chelsea that they must sign Kaká', the Milan and Brazil playmaker who is the current World Footballer of the Year. Although Chelsea denied having made a bid, Adrian Galliani, Milan's vice-president, said last night: 'I can confirm that we have received offers from England for Kaká. But the fans can be calm because Kaká will remain at Milan despite the offers received from Chelsea.'
Scolari's request, confirmed by a highly placed source at Stamford Bridge last night, provides the first defining test of the Brazilian's power and influence at the club and how successful his tenure as coach may be.
'We have not bid for Kaká,' said a spokesperson. However, it is thought a representative from the Serie A club was in London last week to meet the Chelsea hierarchy. Two weeks ago, Galliani claimed Chelsea had made an 'astronomical' bid for the player whom Scolari gave his international debut to in 2002.
On Friday, in Brazil, Kaká's assistant Diogo Kotscho said: 'Real Madrid offered €90m [£70m] last summer and Milan did not even think about it. This time is different. This is the first time we feel a deal will definitely happen. Because of the [financial] situation Milan are in at the moment, the deal is good for all parties.'
Kaká has been reluctant to leave the club he joined in 2003. 'He has always been very loyal to Milan,' a friend said. 'But he has been advised to move on for a fresh challenge.' Milan are not in this season's Champions League.
There were also reports last night that Chelsea had bid for the Real Madrid winger Robinho. 'There was a firm offer from Chelsea of €40m [£32m], but Madrid's president didn't want to transfer him,' claimed Robinho's agent, Wagner Ribeiro. 'I think it is difficult for Robinho to move to Chelsea.'