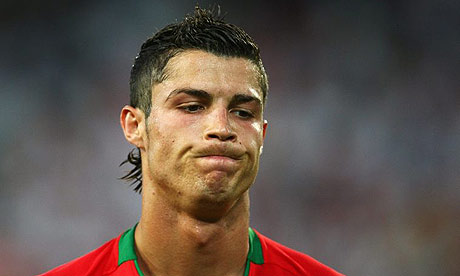 Cristiano Ronaldo will undergo arguably the most gruelling examination of his career in Manchester this week. While Manchester United's medical team assess the state of the Portugal international's right ankle, Sir Alex Ferguson will look him in the eye and test his resolve, attitude and motivation. The answers may determine whether it is the beginning of the end of the tortuous Real Madrid transfer saga or of Ronaldo's time at Old Trafford.
The most coveted player in the world is due to visit his employers one month on from ankle surgery in Amsterdam as United, with whom Ronaldo signed a five-year contract worth £31m in April, inspect his recovery and clarify a timeframe for his return.
That he will be involved in United's pursuit of a hat-trick of league championships is, according to Ferguson and the club's chief executive, David Gill, beyond doubt and they can certainly lay claim to being the only party with a consistent line throughout a transfer tale now in its fourth month. But until Ronaldo comes out and confirms he will be staying at an Old Trafford without Carlos Queiroz and that the "dream" of Real Madrid has died for another season, the doubt lingers.
Ronaldo's meeting with his manager may take place today, the second time they have come face-to-face this summer, and it will take an intransigent performance from the 23-year-old, a show that convinces Ferguson he has lost the player's heart and mind to the Bernabéu, possibly even a transfer request, for the winger to have any hope of winning the argument. As Ruud van Nistelrooy, himself a prolific goalscorer for United and allowed to join Real Madrid only at Ferguson's behest, has said: "The meetings can be a bit lively but overall what he [Ferguson] is doing is in the interests of Manchester United and that's what he always thinks of. In those meetings, if he wants to keep the player, he'll do everything he can to do so and he'll probably succeed as well."
Few players have left Old Trafford against the Glaswegian's wishes and it has aided United's stance, and caused disquiet in Madrid, that Ronaldo has not thrown any tantrums to leave in public. He may have rekindled Ferguson's distaste for the cult of celebrity that surrounded David Beckham by partying in his plaster cast in Los Angeles, and retain the unwavering devotion of only those United supporters who have not reached puberty by keeping Real's interest alive, but he is not entirely lost to the Old Trafford cause yet.
With the dubious exception of a quote claiming to reflect what Ronaldo's agent, Jorge Mendes, thinks his client might say when he returns to Manchester, the player has kept his counsel since his last private encounter with Ferguson - a wise move since the odds against his departure lengthen as the transfer deadline draws nearer and United's determination to keep him, from the Glazers down, holds firm.
In contrast to United's consistent stance, Real's tactics - though not their ultimate wish - have changed with the prevailing wind. Ramón Calderón, the Madrid president, yesterday undermined his argument that Ronaldo represented all-or-nothing for his club in the transfer market this summer when the Spanish champions sealed a £10.3m deal for Rafael van der Vaart. The Dutch international midfielder has harboured an ambition to appear in La Liga on account of his Spanish mother and will be unveiled in the capital today, having agreed a five-year contract.
His arrival from Hamburg provides Real with an immediate remedy to the loss of Wesley Sneijder, another creative Dutchman, who could be out for three months after damaging knee ligaments in the Emirates Cup defeat by Arsenal. A renewed effort from Real to sign Ronaldo for a world-record transfer seemed inevitable the moment Sneijder was carried off on Sunday. Van der Vaart's arrival suggests not and that even Calderón has lost confidence in his pursuit of United's No7.
Not that Real have stopped flirting. As Michel Salgado said yesterday: "We know Cristiano Ronaldo is an incredible player and we don't have a problem about him coming here. The galácticos are the past. I think the best of Real Madrid now is the group and the dressing room.
"If he comes, he will excite the fans for sure. At the Bernabéu, the supporters are used to watching all the best players in the world and Cristiano Ronaldo is now one of the best players in the world."
Even that mantle, however, is no guarantee of success in a spat with Ferguson.
Hello, Old Trafford
How the returning Ronaldo might greet Sir Alex Ferguson today
Ronaldo Hola, mister. I've come back to rot in the stands
Ferguson Say hello to Louis Saha while you're up there, will you
Ronaldo Boss, you'll love this. Rio put me up to it. See that hidden camera - you've been merked. Shake my hand
Ferguson Sorry, son. My mistake. I could have sworn you said throat
Ronaldo I don't suppose you've got a key for these shackles knocking about?
Ferguson It'll take me a wee while to find it ... about five years
Ronaldo Let's kiss and make up
Ferguson Fine - you'll need make up after I've given you a Govan kiss
Ronaldo OK, you win. I'll stay. But I'm going to marry Geri Halliwell and commute from Hertfordshire
Ferguson On second thoughts, I'll just get David Gill to give the Bernabéu a ring

Guardian .co.uk/football