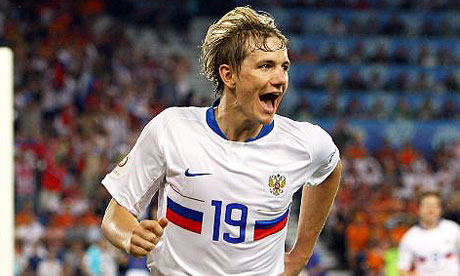 Tottenham Hotspur hope to conclude the £12m purchase of Roman Pavlyuchenko from Spartak Moscow, despite the fact that he would be ineligible to play for them in the whole of their Uefa Cup campaign.
The striker appeared for Spartak two weeks ago in the first leg of the Russian club's Champions League third-round qualifier with Dynamo Kiev, which they lost 4-1 at the Luzhniki Stadium. He did not play in the return last night when they bowed out of the competition after another 4-1 defeat, a result that saw them drop into the Uefa Cup, where they will start together with Tottenham in the first round, the draw for which takes place in Monaco tomorrow.
The European governing body's rules state that "a player may not play Uefa club competition matches for more than one competing club in the course of the same season", and although one player who has already appeared in its competitions for another club can be registered from the start of the knockout rounds, he cannot if he has been "fielded for another club that is currently in the same competition". Spartak's result in Kiev and their drop in status meant misfortune, too, for Spurs.
Spartak have an agreement with Tottenham for the transfer of Pavlyuchenko who is expected in London to finalise personal terms and undergo a medical. He could yet be joined by his Russian team-mate Andrei Arshavin of Zenit St Petersburg, although the clubs are still to agree a fee.
There was a departure from White Hart Lane yesterday. The South Korean left-back Young-Pyo Lee has signed a one-year contract at Borussia Dortmund.
Meanwhile, Manchester United are hoping to resolve Dimitar Berbatov's protracted transfer from Tottenham by arranging the first face-to-face meeting between leading officials from the clubs. David Gill, United's chief executive, will be in Monaco today for the Champions League draw, followed by the European Super Cup final at the Stade Louis II tomorrow. At the same time, a Spurs delegation, including sporting director Damien Comolli and secretary John Alexander, will be in Monaco for the Uefa Cup draw.
Nothing has been officially scheduled, but Gill hopes to meet Comolli for the first time since United declared their interest in Berbatov earlier this summer. Gill will propose that any deal should include a condition that Tottenham drop their complaint against United for allegedly tapping up Berbatov. United have made two bids for the Bulgarian, an offer of £20.5m followed up by a £25m package last weekend.