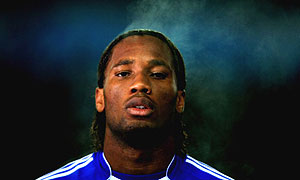 Didier Drogba is still seeking a move away from Chelsea and has not given up hope of finding a new club before the end of the transfer window. Luiz Felipe Scolari wants to retain the Ivory Coast centre-forward in his new team, but the club's new manager has left the matter in the hands of the board.
Currently attempting to recover from a persistent knee problem that will keep him out of this afternoon's Premier League meeting with Portsmouth, Drogba has been frustrated by the absence of formal bids for his services from Italy or Spain, despite making his desire to leave Stamford Bridge clear last season. According to sources close to the player, he 'is as eager as ever to get out' and has informed Scolari directly of his intentions.
Chief executive Peter Kenyon said last week that the club were not attempting to extend Drogba's contract, which has two years left to run and could therefore be 'bought out' by the striker at the end of this season. Equally, Kenyon reiterated recent statements that Chelsea 'do not sell our best players' - a stance that has just helped tie Frank Lampard to a revised five-year deal.
Asked about Drogba's attitude, Scolari said: 'Sometimes it is not the fault of the player. Sometimes agents put things in the news. But Didier, when I arrived and until now, has been training very well twice a day. He is in the last day for his treatment. Three or four days ago he started a new phase for recuperation. Next week, he will start with me on the pitch. We are going slowly because we need Drogba for one year, not one or two games. Last season he played some games with problems and I don't want him to play a few games and stay out of the team for six months.'
Fabio Capello has named his squad for Wednesday's Wembley friendly against the Czech Republic and, while Wigan's Emile Heskey is recalled, there is no place for Peter Crouch.
Capello was at Upton Park to watch Heskey in action for Wigan yesterday and once West Ham's match-winner Dean Ashton was ruled out yet again by injury, it was the other former Liverpool man who got the nod ahead of Crouch.
Aston Villa's Ashley Young was the other surprise absentee, while there was no place either for Tottenham forward Darren Bent. Theo Walcott, who was named in the under-21 squad who play a friendly against Slovenia on Tuesday, was also included in the senior party.
The Italian said that he will send out the strongest team he can, in preparation for next month's World Cup qualifiers. 'The time for experimentation is over,' he said. 'This is the real thing. It is an important game because I hope to get the answers from the players that I hope to achieve. I hope to get what I expect.'
He is confident about overcoming the long-term weaknesses that dogged England's most recent managerial casualties. Mental frailty has been high on Capello's agenda. 'When I started all the players were a bit scared,' he admitted. 'Their minds were closed after failing to qualify for Euro 2008. For the players it felt like an examination when I started. They have to play with the same spirit they play with their clubs. I'll try to transfer that.
England squad for friendly with Czech Republic, Wembley, Wednesday 8pm: James (Portsmouth), Robinson (Blackburn), Hart (Man City); Bridge (Chelsea), A Cole (Chelsea), Terry (Chelsea), Brown (Man Utd), Ferdinand (Man Utd), Johnson (Portsmouth), Woodgate (Spurs), Upson (West Ham); Walcott (Arsenal), Barry (Aston Villa), J Cole (Chelsea), Lampard (Chelsea), Beckham (LA Galaxy), Gerrard (Liverpool), Carrick (Man Utd), Downing (Middlesbro), Bentley (Spurs); Rooney (Man Utd), Defoe (Portsmouth), Heskey (Wigan)
Tottenham are chasing a centre-back and a centre-forward as the club prepare for Dimitar Berbatov's departure. Russia striker Roman Pavlyuchenko may arrive as Berbatov's replacement, though Spurs continue to consider other options.
Portsmouth are close to completing the signing of Lens left-back Nadir Belhadj, for around £2.2m. Celtic have signed Cardiff centre-back Glenn Loovens for a fee believed to be £3m. Rangers are hoping to complete the signing of Steven Davis within the next 48 hours after confirming they have finally agreed a fee, believed to be around £3m, with Fulham. Rangers are also close to signing United States midfielder Maurice Edu from Toronto
World players' union Fifpro have pledged their support to Adrian Mutu as he prepares to appeal against Fifa's order that he should pay former club Chelsea £13.68m. The fine was compensation to Chelsea for the unfulfilled part of his contract, after they fired him in 2004 because of his positive test for cocaine.