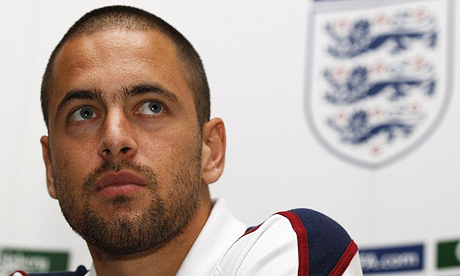 The convening of Fabio Capello's England squad, with the first competitive matches of the Italian's reign a little over two weeks away, drew an admission from Joe Cole last night that players who have excelled in the Premier League and even conquered the European Cup have been guilty of buckling under the pressure when asked to represent their country.
The national team confront the Czech Republic at Wembley tomorrow in their final friendly before the qualification campaign for the 2010 World Cup finals begins against Andorra and Croatia next month. It is 14 years since England last failed to reach Fifa's showpiece tournament yet, having imploded in qualification for the summer's European Championship, frustration abounds that a group of footballers once nicknamed the "Golden Generation" have struggled to reproduce the consistency and confidence of their club form so often at the higher level.
While English players have regularly endured accusations that they lack the technical skills of their counterparts abroad, Cole acknowledged yesterday that their greatest challenge is hurdling a "psychological barrier" which has prompted under-achievement. "The main thing for England is that you need players who can play under pressure, who can do it under the spotlight, because you know there's a lot of criticism waiting out there from the public if you fail," said Cole who trained at London Colney yesterday, with only Jonathan Woodgate absent from the session. "You've got to deal with that. That's the hardest obstacle we've got to get over as a team - to learn to play under that intense pressure.
"Maybe some players do it better than others. That's just how it is. England must get over that psychological barrier. Sure, there'll be games when we don't play well, but you need to feel that - even when things aren't going to plan -you're going to win the game. It's something we need to improve on. I wouldn't say that any one player lacks confidence or belief when he puts on an England shirt, but I just think that, while you can improve your technical and fitness stuff, we need to improve our mentality as a team.
"We're trying to do it. We're not burying our heads in the sand. We're going out there and trying to play, getting the ball down and trying to build. We need to stay cool and calm and keep going forward. It's pigeon steps, going forward a little bit every time. The World Cup isn't for another couple of years, so we don't want to be peaking too early. We just want little bits of improvement every time and, by the time we get there, hopefully we'll be in a better position than we are in now: technically, physically and mentally."
Cole's admission that confidence is a problem in the national team comes as eight of the squad are assembled at the team's regular Hertfordshire hotel base representing Manchester United and Chelsea, powerhouses in the Premier League and last season's Champions League finalists. The party also contains another two European Cup winners in Steven Gerrard and David Beckham. Yet, despite reaching the quarter-finals of the 2002 World Cup, 2004 European Championship and 2006 World Cup, England's best players have rarely played with the fluidity or belief that have become trademarks of their club form. Indeed, many have been unrecognisable when wearing national colours.
The new Chelsea manager Luiz Felipe Scolari, who has eliminated the national team in each of the last three tournaments in which England have competed, has already suggested that English players suffer "mental problems" at crunch times in key games. That has manifested itself most notably in penalty shoot-outs, but Capello himself admitted last month that his biggest challenge was boasting confidence within his squad. "I have to get individuals to play for England like they do for their clubs," he said. "There has been a lack of confidence among players and it's my job to rebuild that. There's a lot of pressure when playing for your country and this has perhaps weighed down too heavily on some players. We need to free them of that so they can play naturally, without fear."
"For me personally, playing for Chelsea and playing for England are two completely different things," added Cole, who earned his 50th cap in May. "International football is different. If you're asking me how I think we can get better, it's about...learning to play under pressure. It's a process and, as a group, it's something we need to improve on. We need to go out there and play freely. Results help that. There's no science to it but we are moving in the right direction."