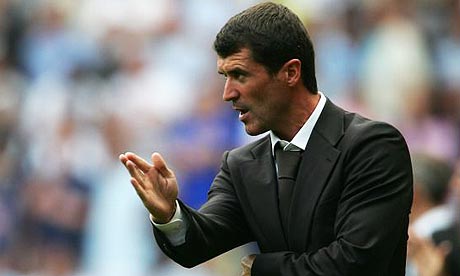 Roy Keane has tipped Chelsea to win the Premier League title next May. "For me, it's Chelsea this year," insisted the former Manchester United captain and current Sunderland manager whose opinion is unlikely to impress Sir Alex Ferguson.
"I always felt that United would do it last year," said Keane. "But I fancy Chelsea this time. There's no African Cup of Nations in January, they've got a new manager, they've bought one or two players and, for all the ups and downs, last year they still nearly nicked it."
His confidence in the London club could, however, be diluted slightly if Dimitar Berbatov completes his anticipated transfer to Old Trafford from Tottenham Hotspur. "If United get a top striker in then they've got a chance," conceded Keane. "But my gut feeling this year would still be Chelsea."
He has not entirely eliminated Liverpool from the title equation, though. Rafael Benítez's team visit the Stadium of Light tomorrow and Sunderland's manager will be particularly mindful of the danger posed by his namesake and former Republic of Ireland team-mate, Robbie Keane.
"Robbie and [Fernando] Torres will be a real handful playing together," said Keane. "I think Liverpool will go close this season and I'm sure they'd like to think they'd go closer than the last few years. They'll be looking to win the League title this year and Robbie and Torres are the sort of players that win you football matches and ultimately win you trophies as well. But there are good strikers at other clubs too, like [Wayne] Rooney and [Carlos] Tevez and [Nicolas] Anelka and [Didier] Drogba."
Keane believes Liverpool's chances would be boosted significantly if Gareth Barry did, after all, end up swapping Aston Villa for Anfield. "That's why they're trying to bring in Gareth Barry, a really good player who knows the Premier League inside out," he explained.
Frustrated as Benítez is about the impasse over Barry, Keane would relish being in a similar position. "Liverpool are where we want to be," he insisted. "I can't speak highly enough of Liverpool, a great club, with a great manager and a great history. They'll be looking at the game against us and thinking it's a decent start for them. But with the quality we've got now, particularly going forward, we hope we can cause them a few problems. They'll have a few players making their debuts too, so it might be a good time to catch them."
Dirk Kuyt, meanwhile, has spoken for an embarrassed Liverpool squad by vowing that they will not play as badly again in Europe. After Tuesday night's goalless draw in Belgium, where they were outplayed by Standard Liège, Liverpool's hopes of reaching the Champions League group stage, and the £12m prize pot that goes with it, hangs in the balance before the return leg at Anfield on August 27.
Only José Reina's penalty save and the goalkeeper's all-round defiance prevented the victory Liège deserved and Kuyt, admitted: "It was a bad performance. We tried to do our best and it was not good enough. Fortunately we are still in the tie, but we have to show better form than we showed in Liège. Now we are looking forward to the first game at Sunderland to show who we are and what we are."