Chelsea were left numbed by a feeling of déjà vu last night after succumbing on penalties in a cup competition staged in the Russian capital for the second time in just over two months. Where Champions League heartache had been reserved for John Terry and Nicolas Anelka, this time it was Andriy Shevchenko who effectively ended as the fall guy.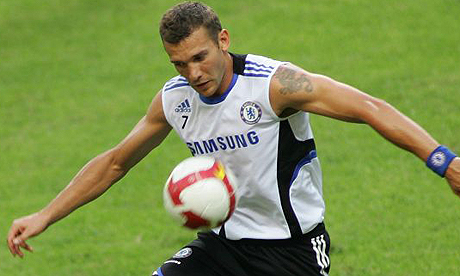 The Ukrainian has struggled since moving to London in a £30m deal two years ago from Milan and his former manager there, Carlo Ancelotti, suggested yesterday, before the match, that his inability to make an impact has been born less of a lack of fitness than "psychological" problems as he struggles to adapt to life in a new country. His miss here in the Railways Cup, Ivan Pelizzoli pushing away Chelsea's sixth penalty with his feet, may have come in a friendly tournament but it will have done little to improve his state of mind.
Shevchenko underwent surgery on a groin complaint over the summer which prevented him from beginning pre-season training at the same time as his team-mates. He had played a bit-part role on the club's tour of Asia and was granted only the final 15 minutes by Luiz Felipe Scolari last night. His cameo ended in the poorly placed shot after Wayne Bridge had earlier passed up the chance to claim victory in the shoot-out.
Scolari was at pains to stress that he had pre-selected the penalty takers that might be used in a shoot-out before last night's game. "Before the game I said to the players that, if we have penalties after the game, I'd choose the players to take them," he said. "I told them it was my choice and, if we didn't win, it'd be my mistake, not theirs. We do need to change the situation, because we will have penalty shoot-outs again, but one penalty will not change my idea of Shevchenko."
This was the third consecutive shoot-out that Chelsea have lost. While Scolari is adamant he can improve that record, he appears already to have decided that Shevchenko will start the season as a squad player. The Chelsea manager had always intended to use this four-team tournament as an occasion to fine-tune his first-choice line-up, with the striker's lack of fitness having effectively already returned him to the fringes with little prospect of beginning the opening Premier League game against Portsmouth this month.
Ancelotti, who worked with the striker in his pomp at San Siro, insisted that Shevchenko could still make his mark at Stamford Bridge despite having scored only nine league goals in two seasons at the club, though only if he comes to terms with life in a new country.
"I'd say the reason he has not had the same impact as he did in Italy is that, when he moved to Chelsea from Milan, that is a hard thing to do," said Ancelotti. "He had to move to another country and the environment changed.
"All these factors obviously affected his condition. He's trying to play the way he can. I believe he has great talent, and we have seen that many times. If he overcomes these problems, which are mostly psychological and, I think, because he moved to a different country, then he will achieve a lot in the Chelsea team. I believe he can still achieve that."
Chelsea led here through Michael Essien's wonderfully lashed first-half goal but shipped an equaliser through Ruslan Kambolov six minutes from time after missing a plethora of chances to extend their lead. They will now play Milan in the third-place play-off tomorrow, with the hosts progressing to take on Sevilla, 1-0 victors over the Rossoneri, in the final.