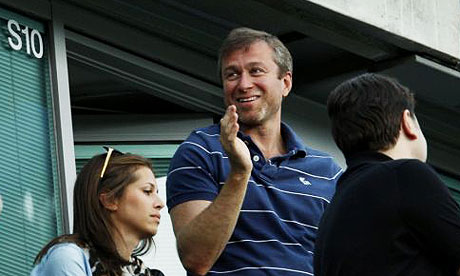 Luiz Felipe Scolari's initial reaction was one of surprise at the fluidity and cohesion displayed by his Chelsea side as they dismantled Portsmouth so ruthlessly to kick-start his reign in west London. However, it did not take long for the perfectionist in the Brazilian to emerge. "It was the perfect start and more than I expected," he said. "But we'll need more quality in the future if we want to be champions. We'll need more than this."
Chelsea were untouchable yesterday, ripping through the FA Cup winners at will, leaving Roman Abramovich beaming at the effervescence of this performance. In the build-up to the game Scolari had suggested his aim was to recreate a Brazilian style of play and, while it will take time for his methods to sink in, this was a tantalising taster of what might be to come. Frank Lampard departed the turf to declare that the side's first-half performance was "the best football we can play".
"I think the owner will be happy, like the other fans," said Scolari. "He's just one more fan for Chelsea. But the supporters saw a beautiful game and three points. We have to keep this going now. Whether we can every week I don't know but we'll try. We played as a team, closing down in midfield, touching the ball with one-twos and marking well when we didn't have the ball. The full-backs got forward, crossed well and dribbled and we had a holding player in Mikel [John Obi] who gave them the freedom to move upfield.
"Everything we'd worked at in training for the last 20 days we did out there on the field. Portsmouth didn't think we'd play like we did because we were more aggressive than last season. I think they were surprised by our team. They didn't expect us to play more aggressively than last season. But I don't think Manchester United will be scared. They are not our opponents next week, after all. Maybe Wigan [Chelsea's next opponents] might be."
Portsmouth were left seared by the ferocity of it all. Deco was outstanding, dictating play from midfield, and the forward surges from Lampard, Florent Malouda, Michael Ballack and Joe Cole were irrepressible. Nicolas Anelka's bite was also appreciated and his reward was his first goal for Chelsea at Stamford Bridge. "That's good for his confidence," said Scolari. "I told him to make people believe in him and he did that."
"They were too bright for us," conceded Harry Redknapp, whose own preparations had been hampered by the sale of Pedro Mendes - albeit with his blessing - in the build-up to the match. "Their movement was too much and we couldn't stay with it. They play from everywhere and we just stood and watched them. I made a rod for my own back by buying two strikers in Jermain Defoe and Peter Crouch and I had to play them. They've not come here to sit on the bench but I don't think you can play 4-4-2 here. You get overloaded in midfield and that's what happened to us."
The Pompey manager admitted his charges had defended poorly but, having played Manchester United in the Community Shield the previous week and with the champions due at Fratton Park next Monday, he is enduring an awkward start to the new campaign. Even so he distanced himself from suggestions that West Ham may try to lure him back to Upton Park should Alan Curbishley fail to match that club's expectations this term.
"I've turned down the opportunity to go elsewhere before and I'm happy where I am," said Redknapp. "It's not a case of the grass being greener. It's difficult at the moment. I've lost Sulley Muntari's energy and Pedro would have played today if he was still here but we'll be better than that, for sure. The top four are on another level and no one will break into that group this year. Still, you don't play Chelsea every week. We've got a nice easy game next Monday against United after all."