Wayne Rooney is 22 years old, recently married, fit to start the season and ready to resume the task of being the Manchester United forward defenders find most difficult to deal with.
In some ways this is an artificial situation, because the player that most terrorised defences last season, Cristiano Ronaldo, will miss the first month or so as he recovers from an injury. There is no doubt that Ronaldo's 42 goals in 2007-08 took the spotlight away from Rooney, not to mention propelled United's charge to a domestic and European double, though the Portuguese winger's unexpected deadliness coupled with Carlos Tevez's energetic contribution concealed a slightly less palatable fact.
Rooney had a disappointing season - or at least, by his own high standards, a pretty ordinary one. He scored only 18 goals in the three main competitions, a figure that may not sound too shabby until you consider that he managed 23 the previous season. Last season he was not only outscored by Ronaldo, he was also pipped by Tevez. He failed, like everyone else, to shine when it mattered for England, and he was withdrawn in extra-time before the Champions League final reached penalties. It was not, by some distance, the Rooney who burst on to the Premier League scene with a spectacular winner for Everton against Arsenal, briefly threatened to turn Euro 2004 into a one-man show and marked his Manchester United debut with the slickest of hat-tricks against Fenerbahce.
All through a summer punctuated by Real Madrid's protracted and ultimately fruitless attempts to prise Ronaldo away from United, the nagging question has been why the giants of world football were not beating a path to Rooney's door. The answer was obvious enough - Rooney was no longer the headline attraction at Old Trafford and had a suspect temperament in addition to an apparent susceptibility to metatarsal fractures - though even making allowance for the injuries it was clear his career was not taking off on quite the trajectory promised by his early success.
Sir Alex Ferguson began to use him in wide positions that could only blunt his instinct for direct attacking and has subsequently apologised for 'not using Wayne in the right way'. Even more disappointingly, Fabio Capello arrived with the idea that Rooney could be deployed alone up front with his back to goal, though mercifully he now seems to have softened that stance. Rooney does occasionally play in a similar position for United, though there is a world of difference between acting as the focal point of a fluid front three with Ronaldo and Tevez close at hand, and pretending to be Emile Heskey while England colleagues welly it up from the back.
'I think we've got to be fairer to Wayne this season,' Ferguson now says. 'He's that old-fashioned sort of player who is happy to play anywhere - he'd give it a go at centre-half if you asked him - but we didn't always use him as effectively as we could have done last season and it's up to me to find a role where we get the best out of him. That means playing him through the middle, as far as I am concerned. We've got to avoid playing him wide again.'
Fine, but what about United's scarcely secret pursuit of Dimitar Berbatov? Ferguson said only last week he expects to sign a new centre-forward within a matter of days, so does the new square deal for Rooney involve playing him as a secondary striker behind an out-and-out front man? Many observers believe that to be Rooney's natural position, as he prefers taking on defenders rather than playing on their shoulder, and has always been better picking up the ball in relatively deep positions than racing forward to get on the end of attacks.
A striker such as Dimitar Berbatov, who is both a supreme finisher and a player who can set up others, would appear an ideal foil, which is presumably why Ferguson targeted him in the first place. So does Ferguson intend to carry on with the fluid front three, with Rooney just ahead of Ronaldo and Tevez, or is he seeking a striker so he can revert to a more conventional 4-4-2, or even give 4-2-2-2 a whirl?
He seems to have enough Brazilians for the latter, though is not about to give any tactics away. 'I don't think Wayne needs to play off someone, as long as we play him in a central role he'll take on the responsibility on his own if necessary,' Ferguson says. 'I wouldn't have any worries about playing him up there on his own, he knows he can do it. The simple fact is we haven't got Ronaldo for the start of the season, and we might not be able to rely on 42 goals from the wing this time. We need someone else to start contributing in a big way.
'I'm sure Wayne can do that, regardless of who we might bring in before the end of the window. He didn't score that many goals last season but there were reasons for that. He started with an injury, then we played him out wide. This time we are hoping he can get among the goals right away.'
Someone else who will be hoping exactly the same is Capello, who also has to solve the main striker/secondary striker conundrum without the option of bringing in a Berbatov or a Klaas-Jan Huntelaar to play to Rooney's strengths. After United's League opener against Newcastle this afternoon, Capello has just a friendly against the Czech Republic on Wednesday before World Cup qualification games begin next month. He is unlikely to see Michael Owen playing for Newcastle and will have to decide whether he favours a partnership, pairing Rooney with Peter Crouch perhaps, or whether he wants Rooney in front of a five-man midfield.
So does the England coach see Rooney as a solo striker or a secondary one? 'He can play both,' Capello says enigmatically. 'I'd just like him to score goals. It is possible to play as a second striker and to score goals as well.'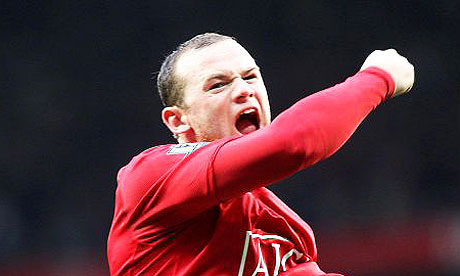 Scoring goals, Capello believes, is becoming harder and harder in international football, not just in games featuring England. 'It is a problem,' he says. 'All the teams know how to defend very well, but at the same time few countries are blessed with top quality goalscorers. Only Spain are the exception, in Fernando Torres they have the best striker in the world at the moment. But what else was on show in the European Championship? Italy, so-so. Germany, so-so. Portugal, no. France? What did we see in Euro 08? Nothing. There is a shortage of top-quality strikers in most countries, it is not just England.'
Capello could be right, yet his verdict only underlines the growing fears in England. Ten years ago at France 98, the 18-year-old Owen scored a goal against Argentina that made the world sit up and applaud. Three years later, he reaffirmed his promise with a thrilling hat-trick against Germany in Munich. Owen is still only 28, just a year older than Berbatov, though a succession of injuries has forced him off Capello's radar.
Rooney's two metatarsal fractures have not yet debilitated him to any noticeable extent, yet the fact that the England manager is talking of a dearth of striking quality must mean - if we put the kindest possible interpretation on Capello's words - that he has not seen enough of him yet to be totally convinced.
This is a reasonable position. In the short time Capello has been paying close attention to football in England, Rooney has not done a great deal for club or country to suggest he is the saviour we once imagined. He is clearly an excellent player, but one must go back a few years for the jaw-dropping stuff, whereas Torres and Ronaldo were extraordinary for most of last season.
That is the new challenge for Rooney. He does not have to convince Ferguson of his ability, or the Old Trafford spectators, or anyone else in England except Capello and perhaps a new partner. He just needs to do something in the present that reminds us all of the past. Something to show that he is not just an interchangeable member of the United front line, but the most naturally gifted striking talent this country has produced in years. Something to put a smile on his own face as well as everyone else's. Something to cheer up Hunter Davies as he plots the next four instalments of his biography. Something to stop Slaven Bilic and the rest of Croatia feeling sorry for English football. Something to make us all proud.
He might be 22 and married now, but we would all like to believe the boy wonder is still in there somewhere.