Analysis
What is clear as England move towards their first competitive matches under Fabio Capello is that a revolution has yet to take place. There was a belief that the Italian would change drastically the side that failed so abjectly under Steve McClaren but, if anything, the status quo has remained.
New faces have been introduced, such as David Wheater and most recently Jimmy Bullard, and others have received their first caps under the new regime, such as Joe Hart and Stephen Warnock, but overall the same faces are filling their regular spots. Indeed, all the players who have appeared in four or more of Capello's six squads so far were capped under a previous manager, and every player who started in England's most recent match, the 2-2 draw with the Czech Republic, had been a full international for at least four years.
It could even be argued that Capello is going backwards in term of selection policy. Having called up Aston Villa's Ashley Young and Gabriel Agbonlahor in his initial squads, he discarded the pair for his most recent and instead turned to Emile Heskey, who first played for England in 1999.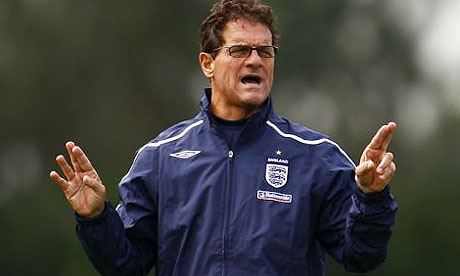 There is one way, however, in which England are progressing. In each of Capello's five matches in charge the side have maintained more possession than their opponents, even in the 1-0 defeat in France, where the visitors had 56.6% of the ball. The figure was even higher in the supposedly muddled draw against the Czech Republic - 56.8%. England also passed the ball better than their five opponents, reaching a 87.7% completion rate in Paris.
Interestingly, the team are tackling less as Capello's regime develops. They made 22, 24 and 22 tackles in his first three matches in charge but only 12 in each of the last two. Their tackle success-rate is, though, improving overall, from 77.3% in the 2-1 victory over Switzerland to 83.3% in the most recent fixture. What this all suggests is that although Capello's England may look very similar to the team that went before, they are playing in a more composed manner, consistently keeping the ball better than their opponents and showing a decisive, measured approach in the tackle.
There is also a sting to this side. England have had 64 shots on goal under Capello, resulting in nine goals, compared with a total of only 37 by their five opponents.