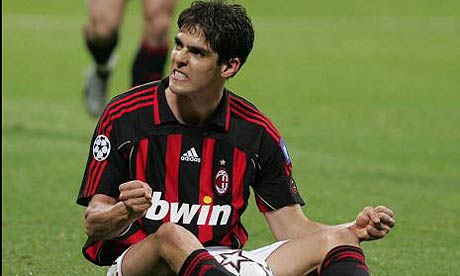 The world's number one footballer, Kaká, will consider joining Manchester City next summer if the newly enriched club achieve their initial target of Champions League qualification.
Since last Sunday, City have been under the control of the Abu Dhabi United Group (ADUG), a vehicle of a Middle East sovereign wealth fund whose representatives have promised to turn them into 'the biggest club in the world, bigger than both Real Madrid and Manchester United' by pursuing 'the biggest players in the world'.
Kaká, Fifa's current World Player of the Year, has been seeking an exit from AC Milan and thought he would be allowed to leave for Chelsea during the summer. Milan ultimately decided against selling the 26-year-old Brazilian, but he believes the club will sanction a 100m euros transfer in a year's time.
'Kaká would prefer a club like Chelsea, Real Madrid or Milan, but we never know,' Kaká's representative Diogo Kotscho told The Observer. 'This season Manchester City do not have a team to win the Champions League. Maybe next season they can get into that competition - they have the prospects to be good enough. What they need to have is a big project to win the Premier League and the Champions League. It's not just about Kaká, they will only get the very best players if they attain this level. It was the same with Chelsea a few years ago - they had to prove themselves too.
'I think Manchester City are headed in the right direction, but they have big work to do. It's no easy thing to reach the same level as the biggest clubs in the world, and it's not just about money - you have to spend it properly and build a great team. In two or three years they can be there if they do the right things.'
In their first 24 hours as City's owners ADUG lodged British record bids of more than £30m each for Tottenham's Dimitar Berbatov, Valencia's David Villa and Real Madrid's Robinho, forcing up Manchester United's expenditure on Berbatov and stealing Robinho from Chelsea's grasp. His acquisition was also intended to provide a star name with which to promote City in the Far East.
ADUG's takeover is also understood to have caught club officials off guard. In the days preceding City's purchase, new chief executive Garry Cook had said that though the club were seeking investment, they were not for sale. Instead, Thaksin Shinawatra accepted an offer of around £200m for a club whose expenditure he could no longer afford to service. The final price will not be settled until ADUG complete due diligence on the club's books and the deal could fall through if significant problems are uncovered.
Though Thaksin's price demands almost resulted in ADUG withdrawing from the purchase last Sunday, the former Thai prime minister could profit by as much as £80m for his 14 months as owner. Thaksin has been allowed to retain a 10 per cent stake in the company and an honorary position on the board.
ADUG forms part of the Abu Dhabi Investment Authority, a sovereign wealth fund managing an estimated $500bn worth of assets. Sheikh Mansour Bin Zayed Al Nahyan drove the move into Premier League football as a means of promoting the emirate abroad.
The contractors on Liverpool's postponed new stadium project have denied they are considering legal action against the club. Liverpool announced an indefinite delay on construction of the £300m Anfield replacement last month, blaming 'global market conditions' yet promising to investigate increasing the stadium's capacity by 13,000 seats to 73,000.
Liverpool have been able to begin only preliminary work on the site at Stanley Park, resulting in the European Union withdrawing grants to fund the regeneration of the surrounding area.
Though not specifically asked about the possibility of suing Liverpool over the delays, a spokesperson for contractors Laing O'Rourke said: 'Laing O'Rourke continues to work closely with Liverpool FC in order to achieve their ambitions of constructing the new football stadium. Laing O'Rourke further wishes to clarify that it has not considered legal action against Liverpool FC.'
Liverpool's American owners, Tom Hicks and George Gillett, face a January deadline for refinancing the £350m loan with which they have been running the club. A Dubai-based investment fund remain prepared to buy them out for around £500m, including that debt.