Kaka's agent has insisted that the reported Chelsea target is happy at AC Milan and is not looking to move on.

The Brazil playmaker has been linked with a switch to Stamford Bridge, but the Rossoneri have no interest in allowing their star man to leave.
And Gaetano Paolillo insists his client is content at the San Siro, where he is under contract until 2013.
"Kaka has always been happy at Milan and he still is," he said.
"He has a special feeling with the fans and with everyone. His family is happy at Milan."
Last season, Spanish champions Real Madrid made a bid for the 26-year-old but their efforts were rebuffed. They revived their interest again this year but with the same result.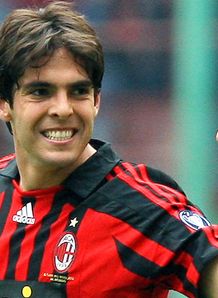 Paolillo is not surprised by the interest shown in Kaka by top European clubs.

Dreams
"It's normal that every year big clubs like Chelsea and Real Madrid make offers to sign key players like Kaka," he added.
"When (Chelsea owner Roman) Abramovich's offer came to light, Real contacted us to say that if the player was up for sale they would be interested as well."
Paolillo has not ruled out the possibility of Kaka playing for Chelsea one day but believes that all depends on Milan's intentions.
"(Chelsea coach Luiz Felipe) Scolari has infinite affection for Kaka but regardless of this, for Abramovich, Kaka is the dream that is missing, Kaka is in his dreams," said Paolillo.
"It will depend on Milan. If (AC Milan owner Silvio) Berlusconi wants to keep him at Milan it will be difficult for Kaka to leave.
"If a player is happy he remains in a squad."