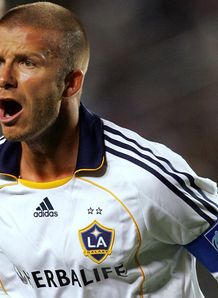 David Beckham has revealed he came close to joining Milan before he signed for Los Angles Galaxy.
The England midfielder left Real Madrid in 2007 and accepted a surprise offer to move to America with LA.
However, former Manchester United star Beckham has now admitted that he also gave serious consideration to a switch to the San Siro after receiving interest from Milan.
"It was an opportunity which I thought about a lot," Beckham said in Gazzetta dello Sport.
"After Manchester United and Real Madrid, I could have gone to another high level club in Milan.
Capello gratitude
"They are the club which I support in Serie A and they have played really good football for many years."
Meanwhile, Beckham has reiterated his gratitude to England manager Fabio Capello for offering him the opportunity to continue playing at international level.
Despite playing in America, Beckham remains in Capello's plans and he is relishing the chance to add to his 102 appearances for his country.
"Being given another chance and being back in the squad, and being part of the team, is one of the things Fabio Capello has brought," Beckham told Sky Sports News.
"He brings that passion. Being part of the team again is exciting and I' m honoured."
Sky Sport