Sir Alex Ferguson has insisted he is not worried by Manchester United's lack of new faces this season. Photograph: Andrew Yates/AFP
Last week Sir Alex Ferguson had a twinkle in his eye and a promise that Manchester United might surprise everyone by bringing in a new player before the start of the season.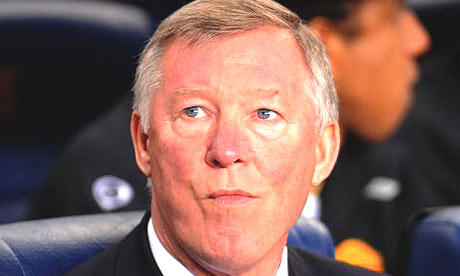 Nothing happened. Mikaël Silvestre was unexpectedly sold to Arsenal, but that doesn't really count, and neither does Djibril Cissé snubbing Manchester City in favour of a loan move to Sunderland.
Now Ferguson is shaking his head and saying he is less optimistic about making a signing. 'Maybe, maybe not,' he offers with a shrug, so expect Dimitar Berbatov to be signed before tomorrow's game at Portsmouth in time to make his debut in the Super Cup match against Zenit St Petersburg in Monaco on Friday.
Do not expect Ferguson to switch targets and come back with Zenit's Euro 2008 star Andrei Arshavin instead, because United had the Russian watched several years ago and decided not to pursue their interest. 'He's obviously a good player, but he plays a particular role for his club and his country,' Ferguson says. 'He wasn't what we were looking for, but you have to say he was outstanding in the match against Holland.'
Ferguson may be relaxed about the transfer window closing before a new striker has been secured - 'We won the two main prizes last year and this is far from the worst squad we have ever had' - though should Chelsea add Robinho to their summer capture of Deco and continue their solid start to the season, United fans could soon be moaning about the club resting on their laurels.
'I think they know me a little better than that by now,' Ferguson counters. 'They know I will always try to improve the squad if I possibly can, and they know there is no point buying players who won't do that. The transfer market can be frustrating at times, but I don't think our fans will be jumping off a cliff if we don't sign anyone. I don't think anyone will mind Mikaël joining Arsenal either. He's been a great servant to this club, he's lost his place to Patrice Evra, and after nine years spent at United you have to treat a player fairly.'
Rather disappointingly, Ferguson did not watch the England friendly in midweek - Setanta's studio scouts could be missing a trick there - so he has nothing further to add to the great debate over Wayne Rooney's positional deployment other than the observation that 22-year-olds generally are prone to tiring themselves out running in search of the ball. Rooney himself, ineffective in his last two matches against Newcastle and the Czech Republic, says he does not mind where he plays.
'If we bring in a striker who can help the team score goals that will be fine with me, I'll try to fit in with him,' Rooney explains. 'If we don't, it will be me and Carlos [Tevez] again like last season. Carlos likes to drop in just behind the front man, that's probably his best position, so I'll have to stay further up. I won't have a problem with that, I think it's what the manager wants me to do anyway.'
The manager does not mind Rooney playing unselfishly for the team and tearing around trying to win the ball back, he just thinks he should spend more of his time on the edge of the opposing penalty area instead of on the edge of his own half. 'If he gets to the edge of the box he will make more goals and score more goals,' Ferguson says. 'He'll work that out for himself eventually. He does waste energy at times, but at 22 I don't think that's too much to worry about. It's just a question of channelling his energy and enthusiasm.'
Harry Redknapp may give an immediate debut to Armand Traoré, 18, who has joined on loan from Arsenal, in place of injured Croatia star Niko Kranjcar. He will persevere with 4-4-2, spearheaded by England's Defoe and Peter Crouch.