One-touch passes, liquid movement and carousel creation seduced the eye as Chelsea's Brazilian manager directed his team to the most emphatic opening-day victory of the Roman Abramovich era. Something more pragmatic may be needed to extract three away points from Wigan in match two.
Dead balls killed Chelsea last season - goal after goal conceded from corners and free-kicks as training-ground preparations were neglected and better organised opponents took advantage. Luiz Felipe Scolari is driving his players to the point of tedium rather than letting such fatal negligence continue.
In the latter stages of pre season, Scolari devoted two consecutive days to training solely on set pieces, doggedly schooling his players on marking and defensive positioning. By the second day, one senior international, accustomed to getting his way with coaches, decided enough was enough, brashly informing his new boss that the team 'had got it now'. Reminding the midfielder that Chelsea had lost 19 goals from dead balls over the past 12 months, Scolari returned him to work. The sessions have continued this past week.
'I know we have problems with this,' Scolari says. 'The staff told me what happened last season. I'm training on this and I'm training many times because we have some different positions for marking now than before. I asked in the meeting before the Portsmouth game if they agreed about some positions. They understood, they trained and they agreed, and we were better in that game than in the training.
'This week we've been training again and they have good positions now for free-kicks, corner-kicks and fouls against us. For sure if we have good positions at these balls we have more chance to win games.'
The same reasoning explains Scolari's request for Chelsea to prise Robinho away from Real Madrid, regardless of the Spaniards' high-priced resistance. For all his pleasure at the manner in which his team controlled the midfield and passed their way to the 4-0 victory over Portsmouth, Scolari is aware such an approach alone will not garner sufficient points to return the Premier League trophy to west London.
A striker who manufactures as well as he finishes and can play through the centre or out wide, Robinho offers the unpredictable - and with it another way of playing. 'We have a system we play and to change this system we need different players,' Scolari explains. 'Now we have one player who isn't a wing, but when he plays on the wing, he plays very well - Deco. You think he's going to cross, but he does not cross. You think he stops the ball, he crosses. That is the style I want in Chelsea for many games because if we have only one system it is easy for the other teams. I like Robinho because his style is different. He tries dribbling many times, he's a different player and we need one more player inside the pitch who makes a difference.'
Though Robinho has tried to force Real into selling him by publicly stating his desire to join Chelsea, the Brazil international will not be at the club in time to play Wigan, whose draw at Stamford Bridge in April helped direct the title to Old Trafford. Muscular and direct, Wigan will test the value of Scolari's set-piece lessons and are likely to pair their newly acquired, bullish Egypt striker, Amr Zaki, in attack with Emile Heskey, scorer last season of their last-minute equaliser at Chelsea.
'I don't think that ended their [Chelsea's] chances, they still had a chance you know,' Heskey says. 'When we went to Stamford Bridge they expected to win. But it's a good mentality we have at this club, we never give up and we always go to the 90th minute.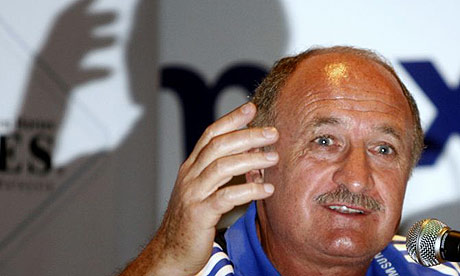 'I don't know if they fear us, but I don't think they will be that happy to be coming to us so early on. I don't think anyone's that happy to come to Wigan because they know we don't just lie down and give up, not any more. You have to be physical against any of the top four, you've got to try and put them off their game a little bit.
'Chelsea are used to that so much now they just get on with their game. Against Portsmouth they just popped it off with one-touch football and it just looked so nice. We've got our own tactics the manager wants us to apply and we'll try and do that. On our day we are capable of beating them. We showed last year that we never give up.'
They showed it again in a stirring second-half display in their opening Premier League match against West Ham last weekend. The Latics trailed by two goals after only 10 minutes before pulling one back to lose 2-1. But their manager, Steve Bruce, warns his side against such early complacency against Chelsea.
He says: 'Our defensive organisation wasn't there in the first game of the season and it had better be there on Sunday, otherwise we'll be in trouble.'