Sir Alex Ferguson welcomed Cristiano Ronaldo back to Manchester United yesterday with the offer of a contract extension for the errant winger and the intention to improve the champions' armoury by signing a new striker before the season begins next weekend.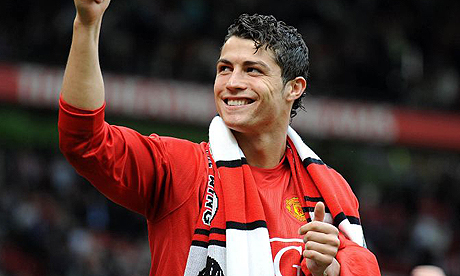 United's campaign officially opens against Portsmouth tomorrow in the Community Shield but, in terms of their most important business of the summer, there was closure in the saga of Ronaldo's possible defection to Real Madrid - at least for a year. The 23-year-old returned for a further assessment on his ankle injury and is due to resume training in a month.
Ferguson dismissed suggestions that Ronaldo's motivation may be adversely affected by being denied his dream move and claimed that, with time, the Portuguese will increasingly value his career at Old Trafford. Even so, the United manager admitted they will have to secure him on a new contract. "Cristiano will now settle down and enjoy his career here. He has four years left on his contract and hopefully, at some point, we would like to extend it. That's where we are," he said. "It was an important issue to keep him here. There are very few players who have left me against my will, and it is unusual for anybody to want to leave United."
United have kept to their promise not to improve the five-year, £120,000-a-week contract that Ronaldo signed in April 2007, but it will be in their interest to have secured the prized asset on a new deal before the start of the 2009-10 campaign. Article 17 of Fifa's transfer regulations allows players under 28 to buy-out the final two years of a contract after three years, with compensation payable to their club. Without a new deal in place before the 2009-10 season, therefore, Ronaldo could serve notice to leave two weeks after the end of that campaign and buy-out the remainder of his contract for £12.48m.
Of Real's continued interest, however, Ferguson added: "I think that's finished now. When we had the meeting [in Portugal last month] the lad quickly agreed with me. He'll be a great player next season because he's still improving. He'll be absolutely fantastic for us.
"The important thing is that we have ended all the stuff about Real Madrid and as he gets older, he will appreciate being here more. That happens with players the longer they stay here and they don't want to leave. If you look at Rio Ferdinand, he joined us as a young man from Leeds, but he has now become a real Manchester United person who loves the club. They come north, to a colder, wetter climate. But they come to a real football city, which not many cities can say."
As for United's success in blocking Real's attempts to land Ronaldo, the Scot said: "Real know they are dealing with a different animal now."
United also received Wayne Rooney back yesterday after he was declared free of a virus contracted in Nigeria. The striker remains a doubt for the opener against Newcastle, and will miss tomorrow's Community Shield, although Gary Neville and Nani are expected to play despite the former's recent calf strain and the latter's suspension for the first two league games. Ben Foster, however, is missing with swelling in the knee that has suffered two cruciate ligament tears.
Ferguson also kept alive the prospect of Dimitar Berbatov or Roque Santa Cruz signing by saying, two days after revealing contentment with his squad, that the club are busy on several fronts. "We are looking at three or four options in the striking department which we hope will come to a happy conclusion. I hope something will happen before the start of the season."