Liverpool's owners, George Gillett and Tom Hicks, have risked sparking another internal feud at Anfield by refusing to back Rafael Benítez's judgment on the £18m transfer of Gareth Barry. The farcical transfer saga was close to collapse last night, with the England international considering re-committing his future to Aston Villa and the Liverpool manager admitting the deal was in doubt but claiming: "It is not a question of money."
The American co-owners have refused to sanction a short-term loan for Benítez to complete the Barry deal despite previously meeting the £18m asking price but missing a deadline set by the Midlanders by minutes. Gillett's and Hicks' stance will raise doubts over their ability to finance a new stadium for Liverpool but it is reservations over Barry's transfer, not a lack of resources, that has threatened the move and their relationship with Benítez.
Benítez expected the Barry deal to go through earlier this week after the player and his agent, Alex Black, demanded the move and O'Neill gave Liverpool "all the time in the world" to return with the £18m Hicks and Gillett pledged last month. Since then, however, the Americans have expressed doubts over Barry's valuation, the low resale value of a player who will be 31 at the end of his proposed four-year contract and particularly the need to sign the central midfielder with Xabi Alonso still at the club.
Those doubts were aired by Liverpool supporters during last night's 1-0 friendly win over Lazio, as they chanted Alonso's name throughout and barracked Barry's proposed arrival, but Benítez refused to concede defeat in his summer-long pursuit after the game. "We have not been able to bring in Barry but it is not a question of money, I don't know what it is," the Liverpool manager said.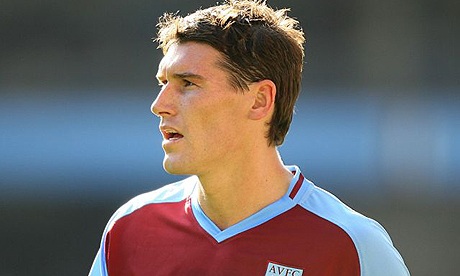 "We need to improve if we can and I think we need another player, because clearly we have problems on the left. I have sold [John Arne] Riise, [Harry] Kewell has gone, [Fabio] Aurelio is injured and [Sebastián] Leto didn't get a work permit, so we need another left-sided player. I cannot say now who that will be but Barry can fill that position and play in others, too. The rules will say we need four English and four associated players and Barry is English, who can play in three different positions, but I cannot say any more. All I can say is I will try my best but I don't know too much why we haven't signed Barry."
While Benítez could yet raise the money to sign Barry by selling Alonso or off-loading both Jermaine Pennant and Andriy Voronin, the Villa captain is losing patience and wants his future clarified before the start of the new season. Having provoked the wrath of O'Neill and Villa supporters by publicly pressing for the move, Barry has since been left in limbo by Liverpool and is prepared to stay put if the saga drags into next week.
Everton received rare encouragement in this summer's transfer market yesterday when Renne's midfielder Stéphane M'Bia declared his determination to move to Goodison Park just 48 hours after pledging to remain with the French club for next season. The indiscreet Cameroon international revealed that Everton have offered an annual salary of 1.5m euros (£1.17m)and bid £7m for his services, as manager David Moyes desperately attempts to add a central midfielder to his squad.
"At the end of last season I was promised that if there was a good offer, I could leave," M'Bia told L'Equipe. "This offer exists. It comes from Everton, who want to buy me for more than eight million euros. I want to leave Rennes. Everton are offering me 1.5m euros a year - Rennes could never offer me that much. Everton are a very established club in the Premier League, managed by David Moyes, a coach who puts trust in youngsters. I have spoken to him on the phone. He wanted to invite me to visit the club. I hadn't the time to do it."
Everton remain in talks for Newcastle forward Alan Smith and Sporting Lisbon's Joao Moutinho, despite the Portuguese club's insistence that the midfielder is not for sale. Sporting are believed to be holding out for close to £20m for their captain, with Everton's offer nearer to £16m.