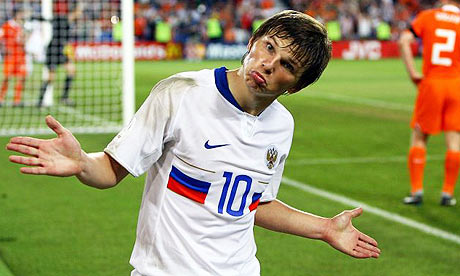 Andrei Arshavin has revealed he wanted to join Tottenham Hotspur after the club's manager Juande Ramos called him personally and the continuing impasse over his proposed transfer had left him frustrated and praying for a "miracle".
The Zenit St Petersburg playmaker also said that he had met a representative from Spurs to agree personal terms and lamented the club hiking his price to more than £20m to "frighten off" his suitors.
Arshavin wanted to insert a buy-out clause into his last contract at Zenit but the administration, who have since departed, said that it was not necessary as he had their word that he could leave if a serious offer were to come in. That gentleman's agreement, though, has cut no ice with the new president, Alexander Dukov.
Even the Zenit fans, who appreciate what Arshavin has done for them, have given their blessing to his transfer, holding up banners at recent matches urging Dukov to "Let Shava Go". Arshavin has even considered the last resort of going on strike; he will decide today whether to fly to Kazan for tomorrow's showdown with the league leaders Rubin.
"When Tottenham made their offer, I was sceptical at first," said Arshavin. "But after Ramos called me personally and told me that they were selling Robbie Keane and that he wanted me in his side, the situation changed. When a coach shows an interest in you, especially such a renowned and strong coach, then that is already half of the success of any move. I also like the way Tottenham play so I agreed in principle to join."
A row has broken out between Chelsea and the Football Association after the London club were prevented from holding a charity match this weekend involving players from their women's team and a side made up of former male stars.
The FA said the fixture, which was to take place in Surrey on Sunday and involve the likes of Dave Beasant, Kerry Dixon and Ray Wilkins, breached its rules prohibiting mixed football over the age of 11. Chelsea are furious, not only because the match was intended to raise money for its Past Players Trust, but also because of the late notice of the cancellation - they were only told on Thursday.
"It's a real shame that our men and women have been prevented from enjoying a friendly game which its sole purpose was to raise money for ex-players and staff members who have financial or health difficulties," a club spokesman said.
Stamford Bridge officials point out that mixed football matches are allowed in other European nations and that some of the Chelsea Ladies players who were going to feature on Sunday have already played against the opposite sex - when the England women's team took on a Chinese U18 men's side prior to last year's World Cup.
Chelsea hopes to play a rearranged charity match in the future but as yet, has no dates, or participating teams, in mind.